CAMS Staff Disclosure Profile Updates
---
CAMS Staff Disclosure Profile Updates

This message to all staff has been approved for distribution by Renisha Gibbs, Associate Vice President for Human Resources and Finance & Administration Chief of Staff, and Robyn Blank, Chief Compliance and Ethics Officer.
As we begin the new year, staff members who joined us in our launch of CAMS in January 2022 and new employees who have joined us in the past year will be the first to participate in the annual update for outside employment and financial interest disclosures. This action is required even if you had no outside activity or financial interests to disclose, do not have any changes since last year, or have recently updated your disclosure profile.  Here's what you need to know to access the system, complete your annual training, and update your disclosure profile, if needed:
1. You will receive an e-mail from CAMS directing you to log into the system and complete your disclosure. Access your CAMS profile by clicking on the hyperlink in the message.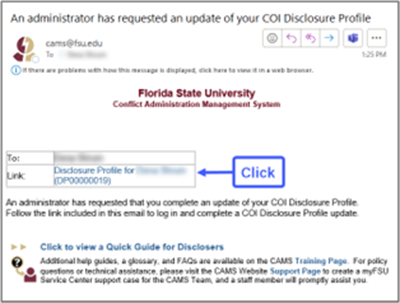 2. Click on "Edit Disclosure Profile" to open the page.

3. Review the revised training document for your assigned category and click to acknowledge acceptance.  
4. If you have nothing to disclose or report: After indicating that you have completed the training for your discloser category, follow these steps:
For Question 1, select "No" and then click "Continue"

Click "Complete Disclosure Profile Update" 

 Note: The "Finish" button will not submit your profile and will leave it incomplete.

Click "OK" to verify that all disclosure information is accurate and current.

Look for a confirmation email from CAMS that your profile has been submitted.
5. If you need to add a new activity or interest, scroll down to begin your disclosure process, beginning with Entity Disclosure Information (click "Yes").  Use the help bubbles to obtain more information on each disclosure question as you move through the system.

6. If you need to update an existing activity or interest, select it from your profile and make any necessary changes.

*Please note: If you have a new outside employment opportunity (you have not yet started work and have not yet sought approval), utilize the "Pre-Approval Request" workspace.  Do not update an existing outside employment item to disclose new outside employment opportunities.
Training
Additional user guides, videos, and FAQs are available on the CAMS Website Training Page. 
Questions
Please e-mail the CAMS team at cams@fsu.edu. Our team monitors this e-mail account frequently, allowing for the quickest response time. Thank you in advance for your time and attention, and we look forward to supporting you.