Renisha Gibbs
Associate Vice President for Human Resources / Finance and Administration Chief of Staff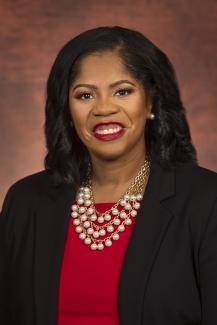 Contact Information
Office Location
A6226 University Center
Renisha Gibbs serves as the Associate Vice President for Human Resources and the Finance and Administration Chief of Staff. In these roles, Renisha is responsible for university-wide planning and administration of the Human Resources function for faculty and staff and provides leadership to the Division of Finance and Administration as Chief of Staff. In addition, Renisha serves as a key consultant to faculty, staff and students, as appropriate, throughout all levels of the University's community and represents the University's interests in community activities, regulatory agencies and professional associations.
Renisha has held several positions of increased responsibilities within FSU Human Resources, most recently serving as a Director in Human Resources leading the Equal Opportunity and Compliance, Employee and Labor Relations, and Facilities Human Resources functional units. Prior to FSU, she held several positions within human resources at the Florida Department of Highway Safety. Her concentration areas include Employee and Labor Relations, Performance Management, Equal Employment Opportunity, and Legal Compliance.
Renisha, an FSU alumna, earned her Bachelor of Science degree in Sociology and her Master of Science Degree in Human Resource Management from Troy University.
Additionally, Renisha holds several nationally recognized professional certifications, including designation as a Senior Professional in Human Resources (SPHR) from the Human Resources Certification Institute and as a Certified Affirmative Action Professional (CAAP) from the American Association for Access, Equity and Diversity. Further, she has been certified in Campus Title IX Administration and as a Florida Public Sector Labor Relations Professional.