Welcome to the Veterans' Preference page, brought to you by the Office of Human Resources at Florida State University (FSU). We are very thankful for your service, and we are pleased that you are considering employment at FSU.
FSU is committed to honoring the preference given by Florida law to U.S. Veterans, and the spouses and family members of Veterans, in appointment and retention in employment. We encourage eligible persons to apply for any open, qualified positions and pledge to comply with Veterans' preference guidelines when filling these positions.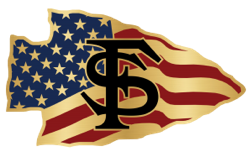 The Veterans Alliance arrowhead is the proud symbol of Florida State University's campus-wide commitment to become a national beacon of veteran support and success. We invite you to view our current openings, utilize the available resources, and consider Human Resources a partner in your job search.
Frequently Asked Questions
title-inside title-centered
2