A courtesy appointment is a designation in the University's HR application system (OMNI) that does not include compensation or confer employee status on the appointee. The courtesy appointment permits the individual to receive access to University privileges, such as FSU email accounts, computer system access, or building access. Courtesy appointments can be used for faculty and non-faculty roles. There are many courtesy job codes available. FSU resources are determined by the specific courtesy job code utilized by the department for the appointment.
Once a department has identified a Courtesy candidate, the department will use the Courtesy Express process to initiative the request. The background check questionnaires are submitted through the Courtesy Express process, while background checks, if needed, are submitted during the Smart Onboarding candidate process. For general information on the University background check process, please visit Background Check for more information. 
Courtesy appointments can also be used with current or former employees (faculty, staff, or OPS) in certain circumstances. For example: 
A faculty member in one department could be given a Generic Courtesy, H0000, courtesy appointment to allow them to serve on a committee in another department and obtain access to departmentally secured SharePoint sites. 
Appointing Courtesy Candidates Via Courtesy Express
This guide will detail the steps to appoint Courtesy Appointment candidates via Courtesy Express in OMNI HR. Each semester, the Office of Human Resources creates a non-advertised job opening for use by the entire University, known as the Courtesy Express. This process is used when the Courtesy recruitment has been completed offline and the department has identified a Courtesy appointment. The Courtesy Express job opening will display for departments in the Recruiting > Search Job Openings list, but it is not advertised as a job for which applicants can apply. The department creates the applicant record, links the record to the current Courtesy Express pool, and prepares the job offer.
Courtesy Workflow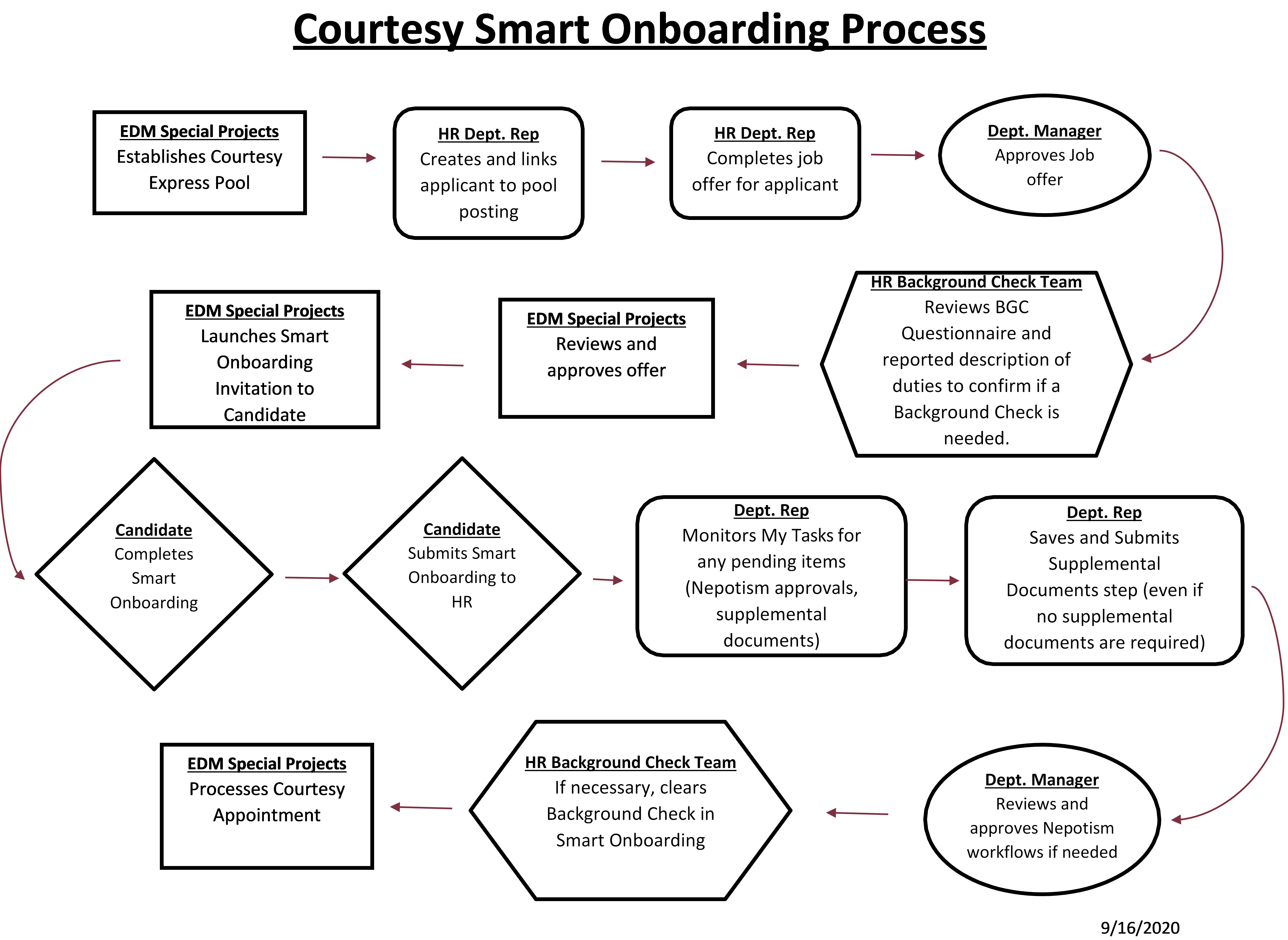 Courtesy Supplemental Docs
Supplemental Documents for Courtesy Appointments (If Applicable)
Instructor of Record Teaching Faculty: Must include a copy of the curriculum vitae and official transcripts.

College of Law Adjuncts: Bar License and curriculum vitae
College of Medicine Faculty: Medical License and curriculum vitae

Unpaid Visiting Scholar: Provide a copy of the Request to Invite an Unpaid Visiting Scholar form and the Unpaid Visiting Scholar/Researcher Agreement.
Participating in Research: Provide a signed copy of the Foreign Government Talent Recruitment Program (FGTRP) form.
Questions?
For procedural questions and policy questions for non-faculty, please contact Shayna Harris in Human Resources at (850) 644-6846 or slharris3@fsu.edu. For policy questions for Faculty, please contact the Office of Faculty Development and Advancement at (850) 644-7500.
Courtesy Job Codes
Courtesy job codes mirror a number of regular University job codes, but begin with "H" or "Y" modifiers. The duties for courtesy job codes match those for the corresponding regular job code. The specific courtesy job code used for an appointment should be based on the role the appointee will be filling in your department. Refer to the "description of duties" associated with each courtesy job code to determine the proper job code assignment.
Faculty courtesy job codes reflecting rank, such as assistant professor, associate professor, professor, and eminent scholar, may only be given to appointees who hold that rank in an academic department (whether at FSU or another higher education institution.
Mandatory Courtesy Appointments
Instructional Responsibilities 
Individuals with instructional responsibilities during times that they are not on the FSU payroll (e.g., summer term or service professors during their off-term) must be covered by courtesy appointments during these periods. For example: 
A 9-month faculty member serving on a dissertation committee during the summer term should be given a courtesy appointment to cover that period. 
 
Unpaid Visiting Scholars/Researchers (more than 14 consecutive days) 
Unpaid visiting scholars/researchers may not be invited to FSU for more than 14 consecutive days without a courtesy appointment. The FSU procedures and forms for inviting an unpaid visiting scholar/researcher are listed here. 
FSU Policy 3A-100 on unpaid visiting scholars/researchers is available here. 
All Non-U.S. Citizen Visiting Scholars must complete the Foreign Government Talent Recruitment Program form and upload it to the Department Supplemental Document step in Courtesy Onboarding. 
Appointment & Termination
Generally, courtesy appointments remain active until they are terminated by the department. Consequently, departments do not need to re-appoint courtesy appointments each year, but will need to terminate the courtesy appointment when the appointee's services end. 
However, if a department fails to confirm active courtesy appointments on a yearly basis through the Courtesy Mass Appointment Verification Process, all courtesy appointments in the department will be automatically terminated. 
The following OMNI HR query can be used to identify active courtesy appointments within a department: FSU_COURTESY_BY_DEPT. 
Courtesy Mass Appointment Verification Process
Once a year, departments must confirm whether their active courtesy appointments are valid. This is known as the Courtesy Mass Appointment Verification Process. During this process, all courtesy appointments in OMNI HR will automatically terminate, unless the Department Representative and Department Manager mark them for retention. If a department has active courtesy appointments, the Department Representative will receive an email from the Office of Human Resources with instructions on the Courtesy Mass Appointment Verification process and a deadline by which all departmental courtesy appointments must be reviewed.
Courtesy Appointment Resources
title-inside title-centered
2