Employers must complete and sign Section 2 of Form I-9 within three business days of the employee's first day of work for pay. For example, if the employee started work for pay on Monday, the employer must complete Section 2 by close of business on Thursday of that week. If the job lasts less than three days, the employer must complete Section 2 no later than the first day of work for pay.
Employee must provide:
- One Document from List A - Documents in List A establish both identity and employment authorization.
OR
- One Document from List B (which shows identity authorization only)
AND
- One Document from List C (which shows employment authorization only)
Refer to the following image for list of acceptable documents which can be used in Section 2.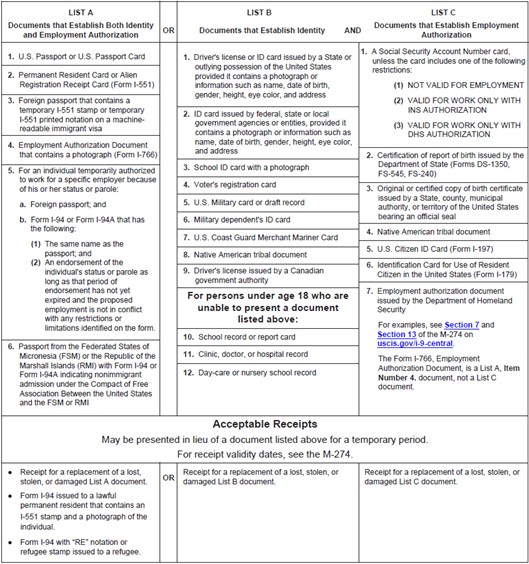 Employer must:
Ensure any document presented by the employee is on the Lists of Acceptable Documents or is an acceptable receipt.
Examine each document presented to ensure they appear to be genuine, valid, and unexpired, and that they relate to the employee presenting it.

If documentation is rejected, allow the employee to present other acceptable documentation.

Record the title, issuing authority, document number and expiration date (if any) of all documents.

The proper document numbers for each respective document can be found on the "List of Sample Documents" page.

Select the "Check Form" button.
Sign and date the form (the password requested to sign Section 2 is the Guardian user's system password).
Return documentation presented back to the employee.
Do Not:

Accept copies or scans of documents
Accept invalid Social Security Cards as explained in the "List of Sample Documents" page.

A card that states the card is invalid if laminated or unsigned and are laminated or unsigned; is invalid and cannot be accepted.

Accept expired documents.
Specify which documents an employee must present

Employees who are unable to present required documentation within the first three days of employment should be terminated. Always contact HR prior to terminating an employee based on I-9 issues.